We're now open!

Tuesdays 2 - 8 pm
Wednesdays 10 - 8 pm (All day)
Thursdays 10 am - 1 pm
Saturdays 10 am - 4 pm (All day)
Sunday 1 - 4 pm (All day)
No appointment necessary
Please visit our information about browsing page to find
out more. Curbside pick up available upon request.
Adult Programming
Join us for Birds: The Epic Adventures of a Massachusetts Bird Photographer with Peter Christoph on Wednesday, April 21st at 6:30 p.m. via Zoom. Click here to register.
Need a good book to read? Check out staff librarian Robbin's Bitty Book Review videos. Click here to get the latest reviews!
Young Adult Programming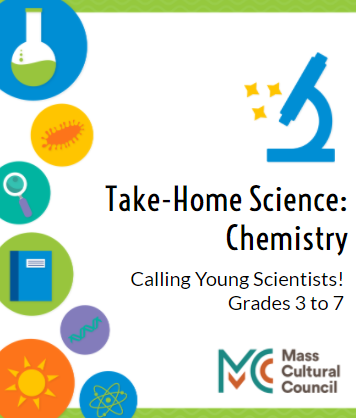 Take-Home Science: Chemistry
Click here to learn more.
Children and Family Programming
Tuesday, April 20 at 11:30 am. Register online. Recommended for ages 3 to 6 but all are welcome.
Find out more about this program, Creative Doodling Class, Virtual Story Time and our many Take Home Kits on our Children's Webpage.