Snow! Holiday Hits and a tribute to Irving Berlin's Christmas Legacy
Saturday, December 10th at 12:00 p.m.
Presented by Seaglass Theater Company

Gift Wrapping in the Media Lab
Tuesday, December 13th | 3 PM- 7 PM
Saturday, December 17th | 11 AM -3 PM
No registration required.
Click here to learn more.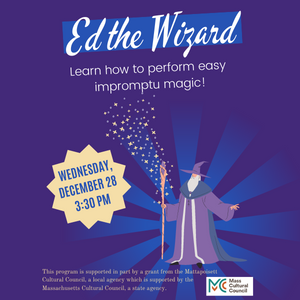 Ed the Wizard
Wednesday, December 28th
3:30 - 4:30 PM