Craft Tuesdays
Every Tuesday in our Media Lab
Craft Tuesday Every Tuesday
No registration required.
September 12th: Flower Fan
September 19th: Zentangle
September 26th: Cat Bookmarks

---
Hunger Games Basic Survival Course
Tuesday, October 10th at 3:30 PM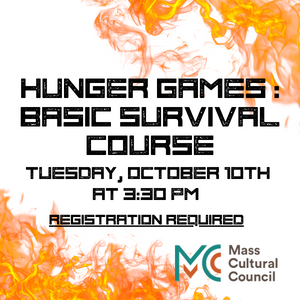 Calling all tributes! It's time you prepare.
At this program Matt Animal Man Gabriel will teach you to:
Learn to create life-saving shelter anywhere.
Discover how to locate and purify water.
Learn to build a quick fire that can be lit using only one match.
Practice Katniss's famous twitch-up snare.
Learn 4 edible/medicinal wild plants that are abundant throughout North America year-round.
Try your hand at Peeta's camouflage techniques.
Learn archery basics and get to shoot a replica or Katniss's bow from the arena!
May the odds ever be in your favor.
This program is supported in part by a grant from the Mattapoisett Cultural Council, a local agency which is supported by the Mass Cultural Council, a state agency.
---
Dungeons and Dragons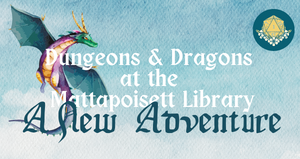 A new Dungeon Master brings a new adventure! Join us in this stand-alone campaign. New players are always welcome. Recommended for ages 12 and up.
Click here to register for Saturday, October 14th at 10 AM.
Click here to register for Saturday, October 21st at 10 AM.
---
Learn Drama Improv
Saturday, October 21st at 2PM
This improvisation workshop is designed to challenge and inspire students to stretch their brains and limits. A great class for both the seasoned performer and those new to the world of theatre who are looking to try it out.
Recommend for ages 12 and up.
---
Teen Advisory Board Meeting
Next Meeting: Tuesday, November 7th at 6PM
Teen Advisory Board returns! New members are always welcome.
For more information, contact Michelle Skaar at mskaar@sailsinc.org or by calling the library.
---