Craft Tuesdays
Every Tuesday in our Makerspace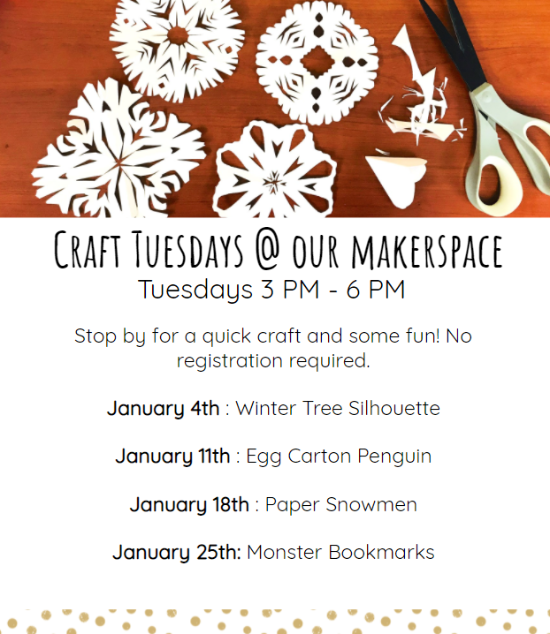 Craft Tuesday Every Tuesday in our Makerspace
3 PM- 6PM
No registration required.

---
Dungeons and Dragons
---
Teen Advisory Board Meeting
Tuesday, February 8th at 4 PM
New members always welcome. Contact Michelle Skaar, at mskaar@sailsinc.org or by calling the library, with any questions.
---
Bow Seat Awareness Program Presents "The Funny Thing about Climate Change"
Thursday, February 24th at 3 PM on Zoom
At this very special event, learn about the Bow Seat Ocean Awareness Programs and how they are inspiring today's youth to use their words, art, and ingenuity to combat one of today's greatest issues, climate change. Join Bow Seat's Program Manager Eric Carstens to learn about the power of creative communication, find inspiration from young artists worldwide, discuss examples of comedic climate communication, and write collaborative poetry.
Recommended for ages 11 and up. Please register by February 21st.
Bow Seat Ocean Awareness Programs is a Massachusetts-based non-profit that uses art-making to provide fresh avenues for young people to engage with and advocate for our blue planet. Our 2022 Ocean Awareness Contest – The Funny Thing About Climate Change – invites students to bring humor, satire, optimism, and other unexpected methods into the conversation. Humor is disarming and provides a safe way for people to approach and understand divisive topics like climate change. Comedy captures attention… it is an effective way to make sure your message is heard.
---