Media Lab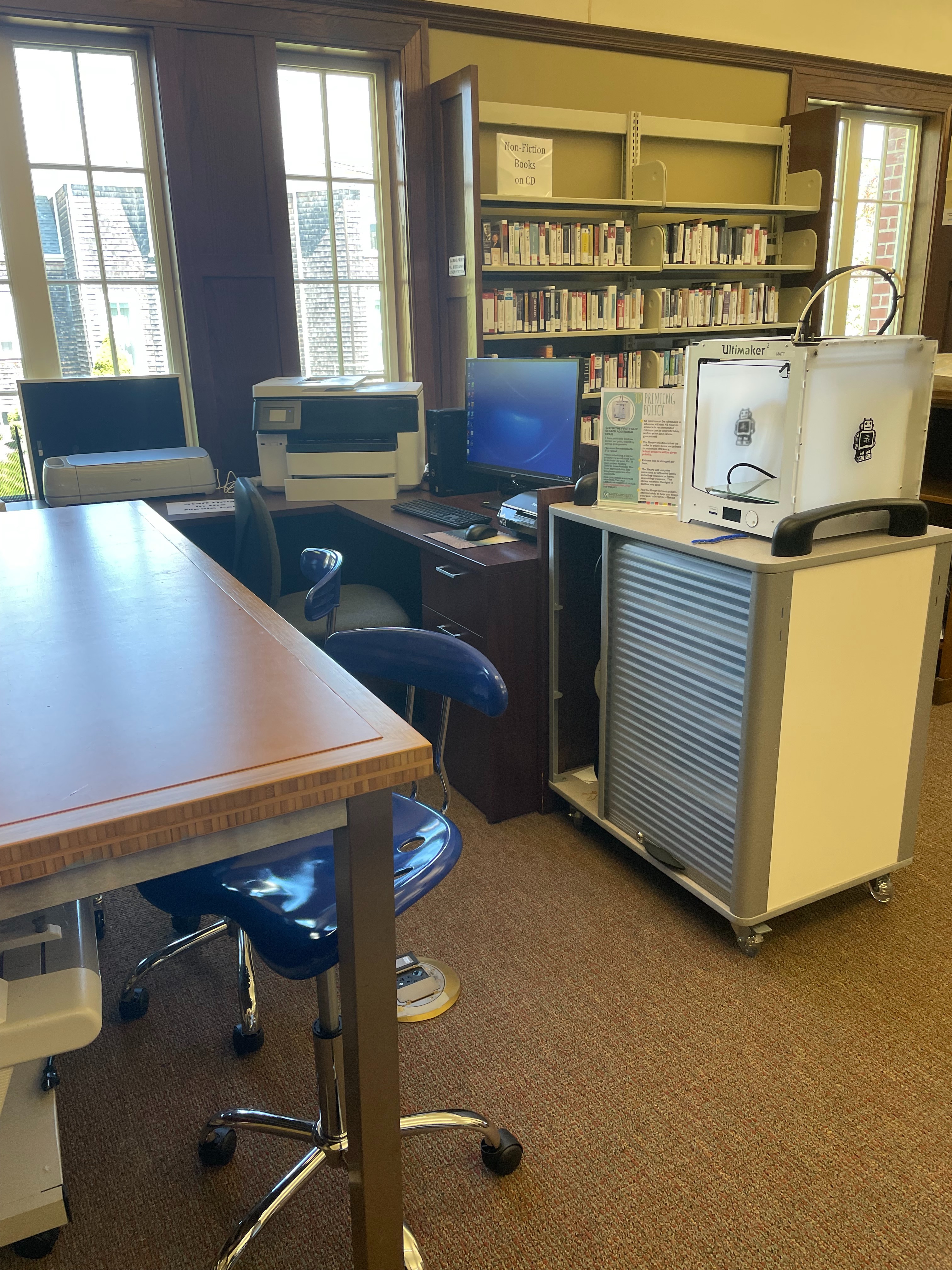 About
The Mattapoisett Library Media Lab is creative endeavor supported by the Mattapoisett Library Trust and the Richard and Ann J. Prouty Foundation, Bank of America, N. A., Co-trustee.
Building upon an existing 3D Printer and work table, the media lab is now equipped with tools to help users design and produce innovative and original projects with ease.
Purpose
The purpose of the Mattapoisett Library's media lab is to provide library users with a space where they may use various digital media, creative software, and associated technologies that support their educational, professional, and personal goals and endeavors.

---
Rules for Use
The media lab is open to all who sign in at the circulation desk. An adult must accompany users under the age of 14. Use of the media lab tools and equipment is free to all users except for the library's regular fees for printing, copying, and laminating. The current fee schedule will be posted at the desk. Users are requested to bring their own supplies for special projects as the library has limited accommodation of craft supplies.
Behavior in the media lab must be consistent with the Library's Policy for Acceptable Behavior. Internet and equipment usage must be consistent with the Use of Computers policy. Please review the library's media lab policy prior to use.
---
Supplies
Hardware
Dell OptiPlex 7090 Intel(R) Core(TM) i7-10700 CPU @ 2.90GHz 2.90 GHz
3D Printer- Ultimaker 2
Cricut
Scanner- Epson Perfection V600 Photo
HP Office Jet Pro 77440- Print, Fax, Scan, Copy, Web
Intuos Creative Pen & Touch Tablet
Hamilton Brul Animation Studio Kit
Creality 3D Scanner
Cricut EasyPress 3 Smart Heat Press
Blue Yeti USB Microphone
Wireless Headphones
Software
Cura for Ultimaker
Corel Suite: CorelDraw, CorelPhoto, CorelCapture, Corel Font Manager
Adobe Creative Suite
---
Services*
Film, Photo, and VHS Digitization
Interested in turning family photos and home videos into digital files? We have the technology to make that happen! With Adobe Creative Suite you can also edit those photos and media.
Sound Recording & Editing
Patrons are able to use Adobe Audition along with a wireless head set and Blue Yeti Microphone to record and edit audio tracks.
Custom Fabric Design and Stencils
Utilize our Circut and its many accessories to create custom projects from fabric imprints to paper art.
3D Printing
Practical or imaginative, the 3D print can make your ideas a reality. Want to recreate an object? Use our Creality 3D Scanner!
Stop Motion Animation
Those interested in exploring the world of Stop Motion Animation, look no further. The media lab has the tools you need to create your first production!
*The opportunities that can be found within the media are vast and not limited to the examples listed. If you have a project in mind and would like to know if our media lab can assist in your pursuits, please contact the library.
---