Chris Morgado
Rock & Roll Photography
On Display: September 4th- September 30th
Morgado's interest in this genre stems from his early participation in a punk rock band. Morgado is a former summer resident of Mattapoisett, where his extended family has lived for more than 120 years - he now lives in New York. When not working as Supervisor of the World Wrestling Entertainment Media Library, Morgado photographs concerts using a Canon Adjustable lens camera and iPhone. His intention is not to document the event, but to create an impression - to put the viewer in the moment to experience the cacophony of sound and light from the concert venue.
---
NEXT ARTIST: Barbara Edlund Healy
Sail Away with Me - Paintings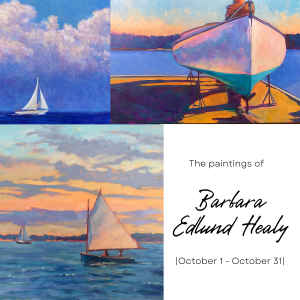 On Display: October 1 – October 31st
Come visit the Mattapoisett Free Public Library between October 1 and October 31 to see an exhibit entitled Sail Away with Me by local artist Barbara Edlund Healy. Healy's paintings reflect the quiet beauty of the New England coast. Her oil and acrylic paintings are inspired by the diverse colors of light, atmosphere, and nature.
---
Past Artist Exhibits
Contact Robbin Smith at rsmith@sailsinc.org for more information.
Chris Morgado
9/4-9/30/23
Bernard Klim
8/1-8/21/23
Jane Egan
7/1-7/29/23

Nathaniel Fuchs
5/16 – 6/30/23

Wendy Goldsmith
4/15 – 5/14/23

David Walega
3/17-4/14/23

John Oldham
2/15-3/14/23

Richard Van Inwegen
1/15-2/14/2023

Peggy Call Conley
12/15-1/17/23

Liz LaValley
11/15-12/14/22

Amy Thurber




10/15-11/14/22

Peter Michael Martin
9/15-10/14/22

Dick & Dianne Morgado
7/15-8/17/22
Kathy McCarthy
6/15-7/12/22
Jackivicz: Luz, Kristina, Luzga, and Kylie
5/15/22-6/14/22
Lisa Elliot
4/15/22-5/14/22
Charles Stockbridge
3/15/22-4/14/22

Ruth Fortier
1/15/22-2/14/22

John Middleton
12/15/21-1/14/22

Gary Hoyt
11/15/21-12/14/21

George Emmons
10/15/21-11/14/21

Barbara Anderson




9/15/21-10/14/21

Kim Barry
7/15/21-8/20/21
---